COACHING
transformative empowerment & mentorship
* YOU DO NOT NEED PERMISSION TO LEAD A CREATIVE LIFE *
Welcome. I am happy that you are here!

Let me cut right to it and be real with you for one moment.

I see you. I resonate with your desires to live authentically, spending time doing what you love. I see your potential. I feel your passion. I feel the struggle. You know what? The storyline doesn't matter. The excuses that make us say "Maybe someday" are no longer relevant in 2019 A.D. The time is now. Your life is happening now. It is time to express yourself now. No hiding. No holding back.

It is time to dig deeper, it is time to create and it is time follow your "hits" - the little voice that keeps reminding you that you have important work to do. AND it doesn't look like clocking in or out. It looks like fun! In fact, creativity comes from a place where time doesn't exist. This "work" that I am talking about looks more like a pause, a breath, reflection, spending time contemplating what makes you feel good, it looks like picking up that project you put down months ago, the vision you once had, that talent that you left tucked away somewhere. It isn't gone. You have every reason and every right to claim your creativity and inspiration and express it; now.

I want to teach you to fight for your power, your abilities, your truth, through your creative expression, whatever that means to you. It could be cooking, it could be singing, it could be tinkering with electronics and making robots in your garage. Drawing? Music? Writing comics?

ONLY YOU KNOW what that little spark is and I want to show you how to light the fire and keep it burning. This is your life's work. We all came here to this planet to create. That creativity fuels us - like oxygen - to evolve and bring up the power and essence of the human experience.

I do not see obstacles, I see strategy. I truly believe that we are called towards our passion, to take part in meaningful, powerful, inspired action aka our "higher work." The universe, spirit, god, however you relate will co-create with you if you align first with yourself. Love yourself. Give yourself space to think - What is it that I want to do with my time?

If you are committed to your journey, you will discover your path by creating it. It will build upon itself and a foundation will be realized, which will give way to the manifest, 3D version of your vision.
I want to help you see the light on your path and move towards your full potential. I know it is possible.

I am a full-time musician, artist and creative entrepreneur. Just like you, I have been on the path of self-discovery leading into a series of hills and valleys, deserts, oceans, and jungles of life full of adventure with no shortage of lessons along the way. I have been an active vocal performance, songwriting, music marketing, band coach and creative mentor since 2009. I have learned so many lessons bumping my head along the way. My experiences have transformed my life and my outlook.
I want to share a system of tools with you - to help you follow intuition and to see your path of creative power- in essence your divine nature and calling.


The biggest lessons I have learned?


Limitations are self-imposed. Bodies need balance! Creativity is #1. Speak Truth. Live fearlessly.
MAGIC IS REAL.

We are afraid of our own greatness more than we know. We are socialized to buy into the program, follow the rules, and to stay within the safety of what we are taught from an early age how to buy into our culture of fear, limitation and lack. Systems are falling away. We are powerful!
We all deeply desire to be authentic, fearless and live with a sense of sovereignty.
Our spirit yearns for truth and is hungry for a new paradigm. I want to help you break through barriers and create a magical life! The experience of being both an artist and an entrepreneur has taken me on adventures internally and externally.
My heart has taken me all over the world, and I have experienced deep transformation from listening to intuition and diving into my calling and life's purpose. I want to teach you how to start listening to the truth of that voice inside calling you. It starts with tuning into you.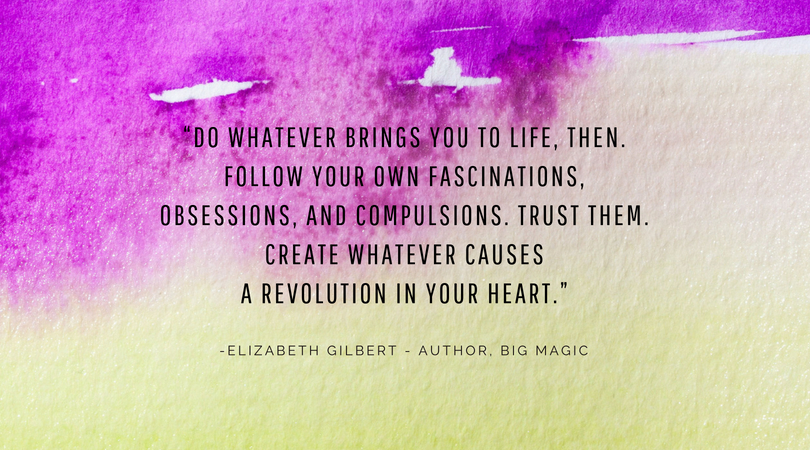 * BIG QUESTIONS = BIG MAGIC *
1. Time and Money are NO LONGER an Issue - WHAT DOES YOUR LIFE LOOK LIKE?
2. What is Holding You Back from Shining Your Light and Claiming Your Creativity? THE KICK-ASS VERSION OF YOU IS WAITING FOR YOU TO UPLOAD.
3. Are You Ready to Make a Commitment to your Higher Self? STOP MAKING EXCUSES, AND START OWNING YOUR CREATIVE GENIUS AND POWER.
As your coach, I am assisting you in your own personal journey. This is an emotional, spiritual and physiological shift. My one-on-one coaching is a 50/50 team effort, not for the weak-hearted. I am not here to fake you out with false promises, the "3 Steps to Perfect Life", or any bull. I am here to help guide you, be your biggest supporter, give you honest feedback, listen, lead you, hold you accountable, and be a part of your team. The reality is, this is serious, deep transformational work that can only be realized and completed by YOU and you alone. The transformation and results you experience will only realized if you are willing to open, show up and love yourself harder than you ever have as you grow into what you already know you are capable of. If you are ready to step through to the other side of not-knowing, if you are ready to shut down fear and accept your greatness,if you are ready for the adventure of creative life, let's do this.
* SELF-DISCOVERY IS KEY TO BREAKING THROUGH CEILINGS OF ILLUSION *
make the choice to lift the veil, stop hiding, and put humility to rest

begin a practice of radical self-love and self-acceptance

employ your imagination and say goodbye to fear and doubt

clarify & define your vision without limitation

call in your tribe and create a community

reclaim your power and sense of worth

identify tools that change your life - learn to trust your instincts, emotional guidance system, and intuition

put an end to systems of false beliefs & unhealthy patterns of thinking

exercise and strengthen muscles of creativity with self-reflection and use it as a method of healing
It is your time to rise and shine. Change can be immediate and radical if you
* GIVE YOURSELF PERMISSION AND MAKE THE COMMITMENT TO YOURSELF TO STEP INTO YOUR CREATIVE GENIUS *
I activate empowered creatives. I know that you are being called to make a shift, fulfill your purpose and unleash the authentic spirit within you. This isn't about metaphysics, this is about you. If you make a choice to transform the electric energy you feel in inside from fear to fearlessness, this has the magnitude and authority to change the energy of the world. Its time to tap into your intuition and trust that raw creative flow. We can co-create an action plan that will change your perspective on life in an epic way.
The best way to determine if we're destined to make magic together is to opt in for a free breakthrough session with me. I'll share some of my most valuable information and a strategic plan for you to take back your power and open your world to your own potential and re-discover that little voice that has been calling out for your attention from within.